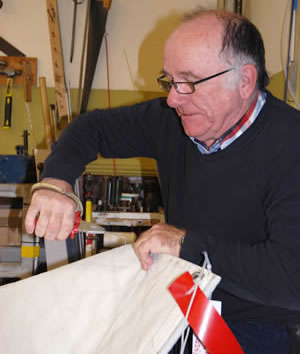 The wot-tac sail repair kits have been designed by Jonathan Abrahams, the inventor of the wot-tac who has over forty years of hands on sailmaking. It is his experience that has brought together the most comprehensive and user friendly sail repair kits on the market. You can choose from the basic Club to the intermediate Coastal to the ultimate Blue Water.
From the sail loft in Pwllheli,North Wales, UK, Jonathan has spent thousands of hours repairing sails and he wanted to offer the best value sail repair kit around  – "I know from 40 years experience in repairing sails that getting the right kit is so important. I wanted the wot-tac sail repair kits to be the best on the market – no matter what sort of sailing you do."
Each sail repair kit comes complete with a guide to steer you through the art of sail repair whether a simple seam  or a more complicated spinnaker tear/rip. Our sail repair kits have all the kit to enable you to achieve a satisfactory and competent repair whether on board or on shore. Each sail repair kit is supplied in its own one off re-cycled sail cloth bag with a secure Velcro fastening.
All our prices are in British Pounds and are exclusive of Value Added Tax [VAT] at 20%. For customers from outside the EU VAT is deducted at the checkout.