Edinburgh cup
Although I wasn't able to participate in the yacht racing of the Edinburgh cup I did get out onto the water courtesy of Paul Murphy and Katy. The conditions were challenging and there was good chop in the water that made it difficult for the yacht racing. The wind was force four, at least, and this contributed to four general recalls for the yacht racing of the final regatta. Eventually all the competitors got off to a great start to the final race. Four boats were disqualified but eventually the yacht racing got underway.
Going into the day of the Dragon's yacht racing Mikhail Muratov and Klaus Diederichs were tied for the lead on 16 points, Martin Byrne was on 17 points, Julia Bailey counted 23 and Olga White 28.
Off the line Martin Byrne got the best start at the committee boat end for the yacht racing. And he was the first to tack off to the right with Diederichs and Muratov following. By the mid point of the yacht race Byrne had already established a lead with Diederichs and Muratov jostling for position on the front edge of the pack. On the second beat Byrne extended his lead to some 200 yards, Muratov moved into second and Diederichs third. They held their positions on the second run and up the final beat Byrne was able to maintain a loose cover on the fleet and cruise to a very well deserved victory of the yacht racing Edinburgh cup.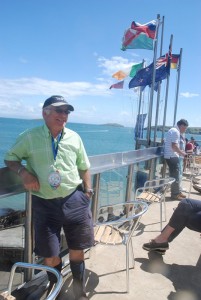 My congratulations to the winner, commiserations to the losers. Everyone who attended the Edinburgh cup yacht racing at the South Caernarvonshire yacht club have enjoyed their time. We were able to provide a couple of wot-tacs for some of the competitors of the yacht racing and we hope that being able to predict start line bias and the choice of bear-away or jib set on the windward mark was helpful.
South Caernarvonshire yacht club
This week sees the Solo dinghy racing Championships at the South Caernarvonshire yacht club. There are 96 competitors in this dinghy racing event. There are a couple of entrants from the South Caernarvonshire yacht club as well as other sailors from North Wales. The weather has been brilliant this week so far ideal for dinghy racing in the Bay.