29th September
I returned recently from a very eventful weekend at the Tasar World championships in Torquay. It was a fantastic weekend and Sheila and I met some enthusiastic sailors from all over the world. There were fifty six entries in the Tasar Worlds at the Royal Torquay Yacht Club. There were 21 entries from Australia and 17 from the UK and eight from Japan.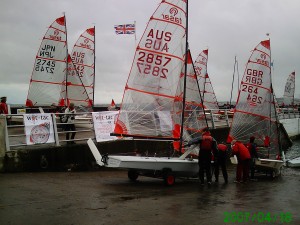 Wot-tac were one of the day sponsors at the world championships and we provided wot-tacs as prizes for the various races. The only drawback with Torquay is that it's such a long way from north Wales and it took us six hours to drive down. On the Saturday morning we had great breakfast at Gino's and then organised the banners along the slipway where the entrants for the Tasar worlds entered the water. I met up with Pete Ellis the Tasar chairman and I helped him to get the boats weighed.
For anyone who isn't familiar with a Tasar then I hope the association won't mind the following description which is on their website.
Some background on the Tasar
The Tasar was designed to be sailed by a man and a woman and it delivers exciting performance without using either spinnaker or trapeze. The hull has a fine angle at the bow to reduce wave impact drag with unusually clean and sharp chines aft to ensure very free planing and outstanding stability. The foam cored hull is stiff and light and the advanced hull shape, together with an innovative rig which combines a rotating mast with a fully battened main sail, allows the Tasar to plane upwind with the crew normally hiked. The wide beam and a cockpit designed for comfortable hiking make the Tasar easy, fun and very exciting to sail in winds up to 25 knots.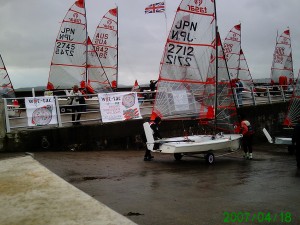 They are a really great, light weight boat that provide some great sailing.
More blog and photographs of the Tasar Worlds coming soon.