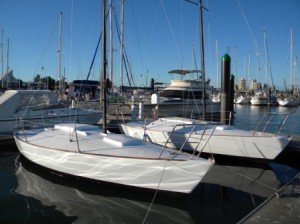 Wot-tac
This summer saw the launch of the wot-tac in Australia .
Well the sailors down under have been very keen to take up the wot-tac and have shown a lot of interest in how the wot-tac is the ideal device for effective tactical sailing. Getting over the start line first has never been easier when you use wot-tac. It is so simple to use and all you have to do is set the true wind direction into the wot-tac. It's the simplest tactical sailing device out on the market.
One of the first clubs to show interest was the Sunshine Coast yacht Clubs in Mooloolaba Queensland. The club has recently taken delivery of four J24s that are going to be used for training at the club. Now there are four wot-tacs in the clubs one each for the J24s and hopefully all those learning to sail at the clubs will be taking advantage of the wot-tac and learning how it can be used to great tactical advantage whenever you're sailing. More details form the club to follow and hopefully we'll have some photographs for the blog soon from Heinz Seeberg, the Commodore at the Sunshine Coast Yacht Club. Here are the first photographs of two of the J24's from the Sunshine Coast Yacht Club.
I'm also delighted that we've been able to sponsor Heinz with a wot-tac for his own sailing and hopefully you can read a blog from him very soon. Heinz started sailing in a Flying 15 and has raced one design and mixed fleets for over 40 years in Queensland (Aus and) Victoria (Aus), including across the famous Bass Strait.  He's also cruised the Med and the Queensland Coast and is currently sailing at least twice a week all year. Quite a difference to our sailing in north Wales where we hurry inside after October and this year the radio was actually predicting snow before the end of November